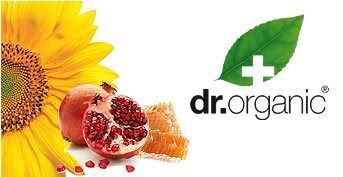 I first discovered Dr. Organic about a year ago, when a friend gave me a shower gel and a lip balm from the Pomegranate range. It took me a while to get used to the smell of pomegranate, because I had never used any products with pomegranate before, but after a while I really loved it! Dr. Organic always tries to use the finest natural and organic materials to create their products. Furthermore, their products do not contain harsh chemicals such as sodium lauryl sulphate (SLS, something a lot of people try to avoid because it can dry out your skin), parabens and artificial fragrances. And it gets better: no animal ingredients, no animal testing, no GM ingredients and no mineral oils. Dr. Organic has many different products within the following ranges: Aloe Vera, Pomegranate, Tea Tree, Vitamin E, Lavender, Manuka Honey, Virgin Olive Oil, Royal Jelly and Rose Otto. Within these ranges there are lots of products, such as body wash, shampoo, skin lotion, body butter, deodorant, lip balm, eye cream, day cream, and even toothpaste. So, there is something for everyone.
I haven't tried very many Dr. Organic products yet, but I will review the ones I have tried. The first one is the Pomegranate body wash.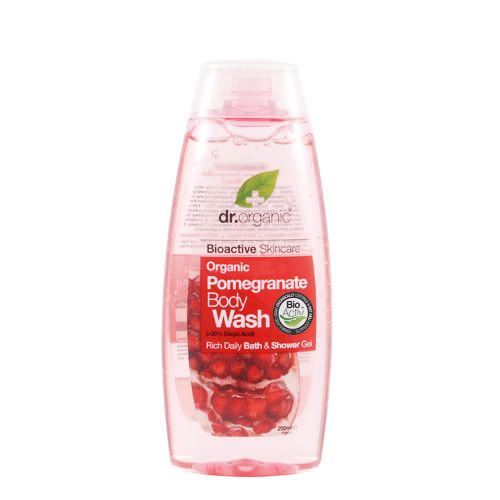 The bottle looks nice, quite simple but attractive. The body wash is a pinkish colour, although the colour can vary per batch and this does not affect the product. At first I thought this body wash smelled of washing-up liquid but after a while I got used to it and now I really like the fresh and fruity smell. This fresh fruityness is probably also why I thought it smelled like washing-up liquid. I usually put the body wash on my puff sponge, to foam it up a bit. Even though the product does not contain SLS, which is often used to create foam, it still foams. This is something I really like, because I always want my shower products to foam, it just makes it feel nicer and it also makes it more fun! I don't have the feeling this body wash does anything for my skin, or at least not more than other shower gels/body washes I have used. However, my skin is quite normal and not dry so maybe it works differently on someone with a different type of skin. All in all I like this product, and a new bottle of it is waiting for me in the cupboard.
Another product from the Pomegranate range that I own is the lip balm.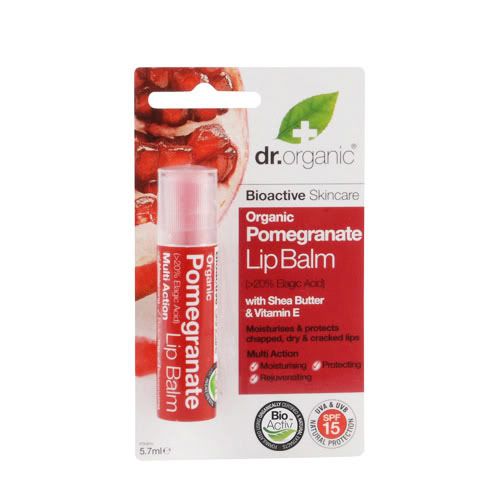 The packaging of the lip balm looks like any other lip balm, just the lid is smaller than most lip balms I have had, and you have to turn at the top instead of the bottom to get the lip balm out. I really like the smell of this lip balm, but I think the texture is a bit hard. However, once I have rolled it over my lips a few times it softens and is easier to apply. The lip balm contains shea butter and vitamin E and it has SPF 15 protection.

Again, I can't really say whether this product makes my lips softer because I don't have dry lips very often. Also, I don't use a lot of lip balm so I don't have anything to compare it with. However, I think it's worth a try for anyone with dry lips because of the smell and the natural ingredients it contains.
At the moment I am using the Manuka Honey body wash, so I will also review that product.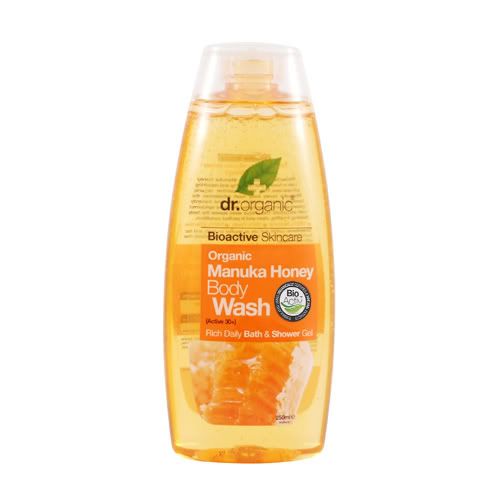 The bottle is very similar to the Pomegranate one, just the colouring and the picture is different. I like this, because it keeps the Dr. Organic products very recognisable. This body wash really smells of honey, and I think it might not be a smell everyone likes. I think it is a bit strong, but also quite nice. This strong smell doesn't stay after you've showered, which I like, but you could always emphasise it by also using a body butter from this range. On the whole, this body wash is quite similar to the Pomegranate one. There is no difference in the effect of the body wash on my skin, but I think someone with very dry skin might be better off using the Manuka Honey body wash because of the moisturising properties of honey.
As you can see, I quite like Dr. Organic products. I'm sure I'll buy them more often, but not too often because I like to vary with shower products and try different brands and smells.
In The Netherlands, Dr. Organic products are available at De Tuinen, and the body wash costs
€
7,19 for 250 ml and the lip balm costs
€
4,19. In the UK you can buy Dr. Organic products at Holland & Barrett.
Have you tried Dr. Organic products before? What do you think of them?
Pictures come from the website: www.drorganic.co.uk