Okay it's not really 'news' because it's not recent, but I didn't tell you yet: I passed my IB exams!!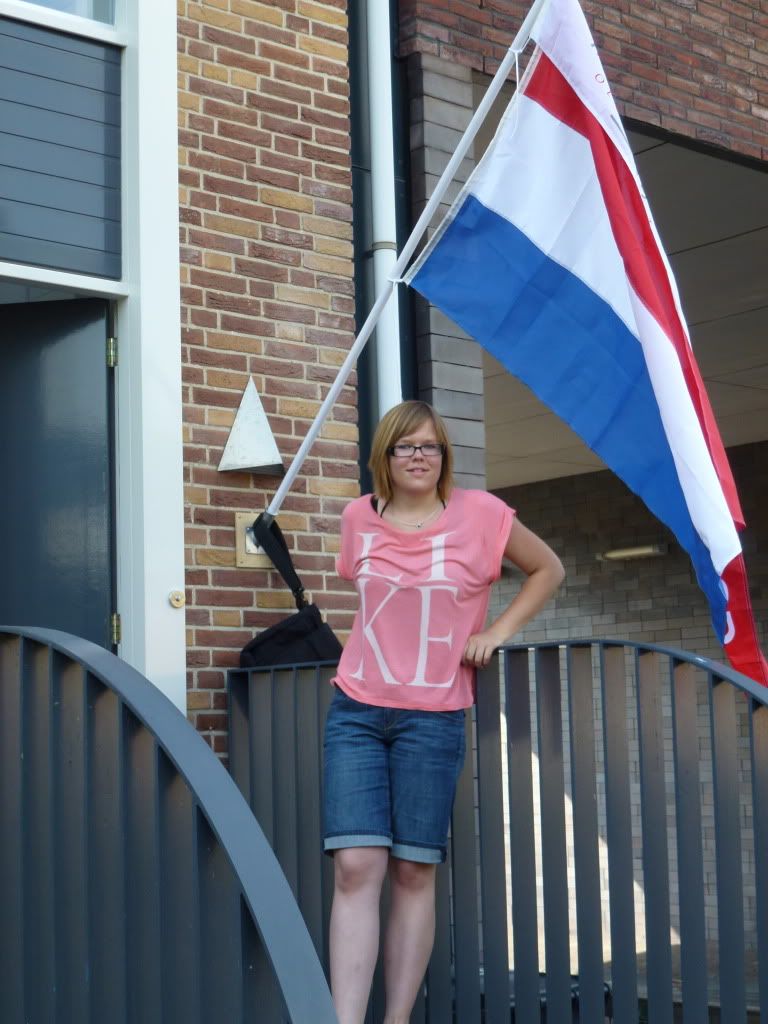 Me with the flag - in The Netherlands it is a tradition to hang out the Dutch flag with your schoolbag when you've passed your exams and as a real Dutchie I stuck to this tradition!
On the 5th of July (more than 2 weeks ago already) it was International Baccalaureate Results Day, the day that we finally (after 1 1/2 months of waiting) got our results. I was really nervous, because I needed certain grades to get into my first choice university (in the UK it is normal for universities to give you a conditional offer based on grades, and if you don't get these grades you don't get in) and I was really scared I didn't get these grades! But in the end it turned out I was nervous for nothing. These are my grades for each subject (grades are from 1 - 7, where 4 = satisfactory, 5 = good, 6 = very good, 7 = excellent, except for TOK and EE grades which are from A - E (if I remember correctly) where A is best; Higher Level (HL) subjects are slightly harder than Standard Level (SL) subjects and A1 languages are for native speakers, B languages are for when you are still learning the language, but I think the B course aims to make students near-native by the end of the course):
Dutch A1 HL - 7
Spanish B HL - 7
English A1 HL - 6 (pheeew really thought I was going to get a 5 and I needed the 6 for uni!)
Biology SL - 7
Geography SL - 7
Mathematics SL - 6
Theory of Knowledge (kind of Philosophy-style course): A
Extended Essay in English A1 - C
Total: 42 points (45 is the maximum, 42 from the 6 subjects and 3 bonus points from TOK and EE, I got 2 bonus points)
I am really really happy with my grades, the only grade I could possibly be 'disappointed' about is the C for my Extended Essay (my supervisor always said it was really good and I did spend quite a lot of time working on it...) - but that doesn't really matter.
This means that I'll be starting the BA Hispanic Studies and Linguistics at Queen Mary University of London in September - which means that I'll be blogging from London from then on (exciting right?!).
For now I am going to enjoy the 2 months of holiday I have left, after IB I really needed a loooong holiday - not having to think about any homework/tests/etc. is such a good feeling!
Did you also take final exams this year? How did they go?