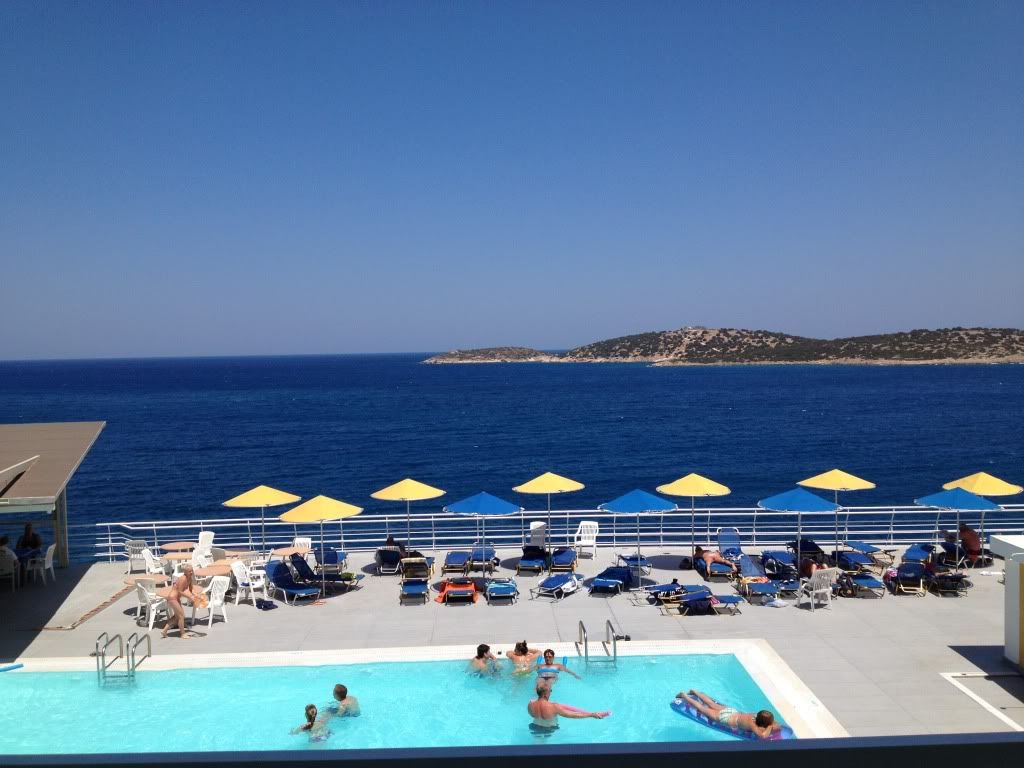 Recently it's been very, very warm here in The Netherlands! But I was already used to hot weather because I spent a week in Crete, Greece from the 8th to the 15th of August.
Back at the beginning of the year Kim and I decided that we wanted to go on a sunny holiday together this summer, and if we have a good plan we carry it out! So, at the beginning of April, we booked our holiday to Agios Nikolaos, one of the larger towns on the Greek island of Crete. We found a hotel located right by sea, which offered all inclusive for a relatively low price so we decided to book this.
As we didn't want to waste any of the days we had paid for we decided to take the earliest flight (6:30 am) to Heraklion. Because we would have to leave for the airport at around 4:15 I decided to stay at Kim's house the day before we left. In the early hours of Wednesday Kim's dad brought us to Amsterdam airport and our holiday started! Eventually we arrived at our hotel at around 14:00, after a bus ride of about 1 ½ hours from Heraklion.
Sunrise seen from our room
The view from our room in Hotel Coral was amazing! We had purposely booked seaview, which was only a few euros more expensive, because we'd heard it would be great. And it was! The bay where Agios Nikolaos is located is called Mirabello, which is Italian (dating from the Venetians who were once on Crete) for 'beautiful view'. I definitely agree with this name! We could see the sea from our room, with mountains surrounding it. We also saw boats (and sometimes cruise ships) in the harbour of the town.
We spent most of our days relaxing. Most days we woke up at around 8, had breakfast and then went to the pool or beach (although it was mostly the pool because you had to pay for the beds on the beach unfortunately). Between 13:00 and 14:00 we would have lunch, and then spend the rest of our day lying by the pool again. Then at around 18:00 we would go back to our room and get ready for dinner, which started at 18:30. After dinner we would walk to the centre of Agios Nikolaos and then we would spend the rest of the night on our balcony playing games such as Yahtzee. We didn't get bored for a single moment.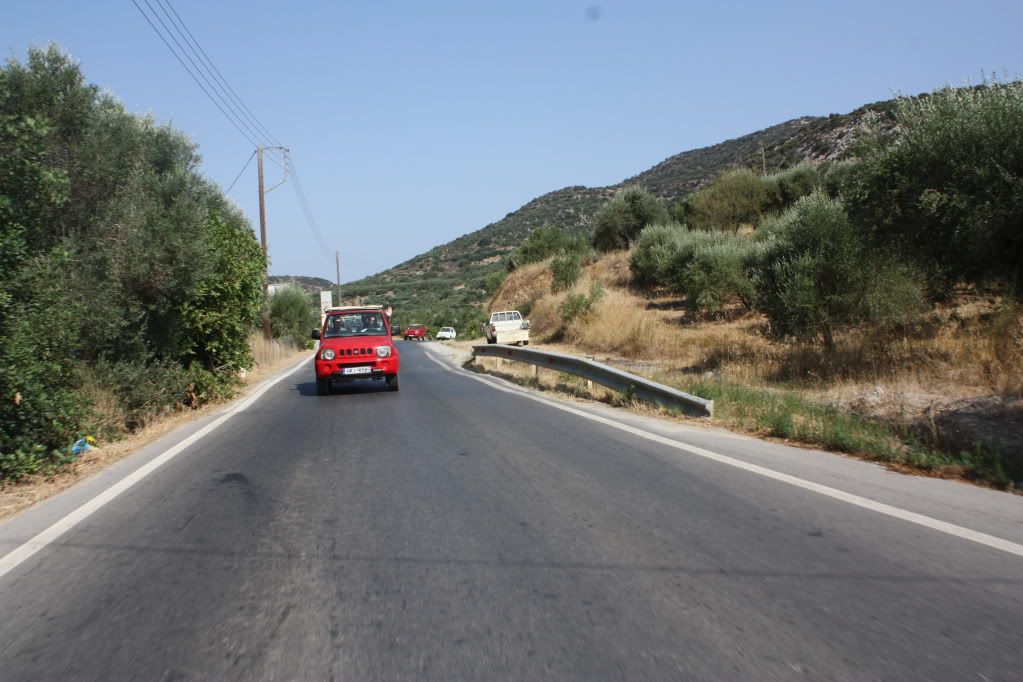 On the Jeep Safari. This was a normal road but we also did a lot of off-road driving between the olive trees!
The only day we didn't spend by the pool was the day we went on a Jeep Safari. We had booked our holiday with Dutch tour operator Sunweb. They offered several excursions and we chose the Jeep Safari because all other excursions either involved boats (Kim didn't want to go on a boat due to a bad experience) or they left really early (one of them left the hotel at 4:00 am and would only return at midnight!), and because it just appealed to us. The day started at 8:00 am when a crazy Greek driver took us and 4 other guests to Chersonissos. At one point he was driving 110 km/h where 50 was allowed – oh, and he was on the phone… But eventually we arrived safely! Chersonissos was the starting point of the jeep safari, Kim and I both don't have a drivers license so we were grouped with 2 Dutch guys who both did have a drivers license. With about 12 jeeps in a row we drove through Eastern Crete, mainly surrounded by olive trees. My highlight to this day was the stop at the other side of the island, where we had some time to swim in the Libyan Sea! The water was lovely and it was really nice to be able to rinse all the dust, which had accumulated over the course of the day, off our skin and from our hair.
By the harbour of Agios Nikolaos.
At the end of our stay in Agios Nikolaos we also did a little bit of shopping, for souvenirs! Most of the shops we saw in the town were souvenir shops and thus very much aimed at tourists. But some of them were really nice. For instance, there was one which sold all kinds of soaps and other beauty products. There were also a lot of shops selling olive oil, herbs and the like. I bought quite a few souvenirs: a present box with a small bottle of olive oil, a small bottle of ouzo (Greek alcoholic drink) and different kinds of herbs (such as a mix for tzatziki) for my parents, a bottle opener (wherever we go, my brother and I always buy a bottle opener for our parents, it's become a tradition!), acacia honey, three bracelets and vanilla scented olive oil scrub soap for myself, a pack of cards and a magnet of Poseidon for my brother and a bar of olive oil soap for Annabell and Eline. I really enjoy shopping for souvenirs!
Mocktail (Double Rainbow - Orange juice, lemon juice and grenadine) and cocktail (Strawberry Daiquiri) on the last night. Both were delicious!
On Wednesday the 15th we had to go back home, but neither of us really wanted to go! Luckily we had a late flight, at 21:00, so we still had the whole day in our hotel. We spent this day by the pool until the bus came to pick us up at 17:30.
All in all we both had a great holiday and I really want to go back to Crete sometime!
xx Loes
P.S. Keep up to date with my life (especially when I move to London in 3 weeks time!) by following me on instagram: @Loeszieee