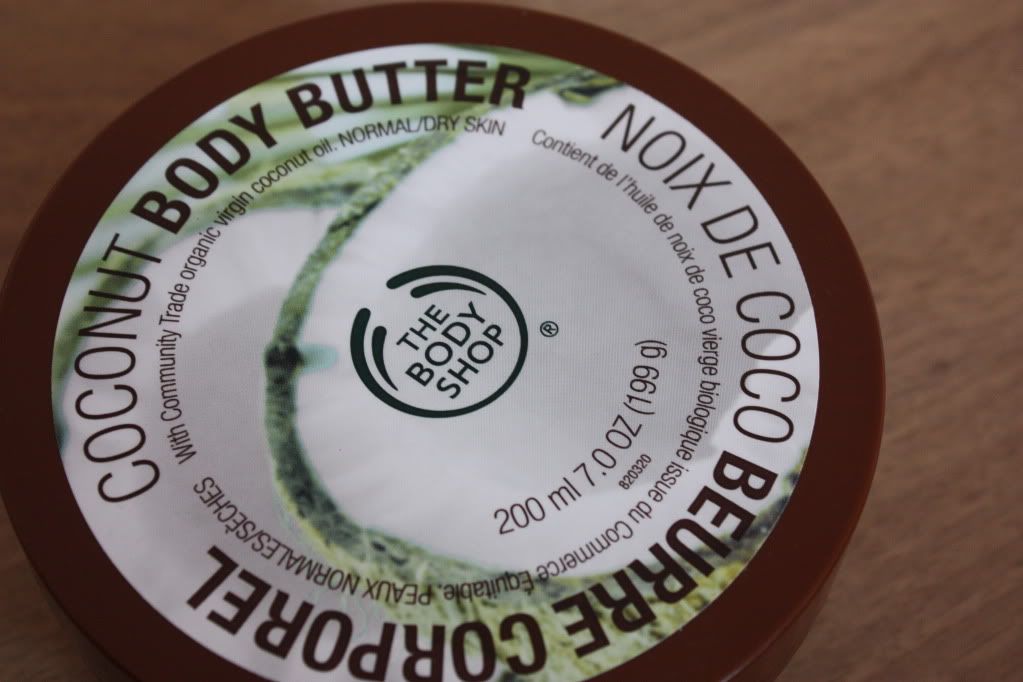 I really like The Body Shop, but most products are quite expensive, so when I got some money for my birthday I decided to try out one of their body butters. I bought this coconut body butter in March, but didn't use it much back then. A few weeks ago I decided to start using body butter more regularly, and therefore I can now share my experience of this body butter with you!
As we are used to from TBS, this coconut body butter comes in a simple but very nice pot. I especially like the picture of the coconut on it, and I think it makes the product look attractive. It took me long to choose the body butter I liked best, because all of them smell so good. Eventually I chose this one because of its soft, subtle smell of coconut. When you open the pot, you smell the coconut right away but when the butter is on your body you only smell of coconut very subtly, and that's just how I like it.
The main ingredients of this body butter are shea butter, cocoa butter and caprylic, which is derived from coconut oil. So, as with all TBS products, this body butter is full of natural ingredients that are a treat for your skin.
The body butter has a creamy, buttery texture - just what it's meant to be like.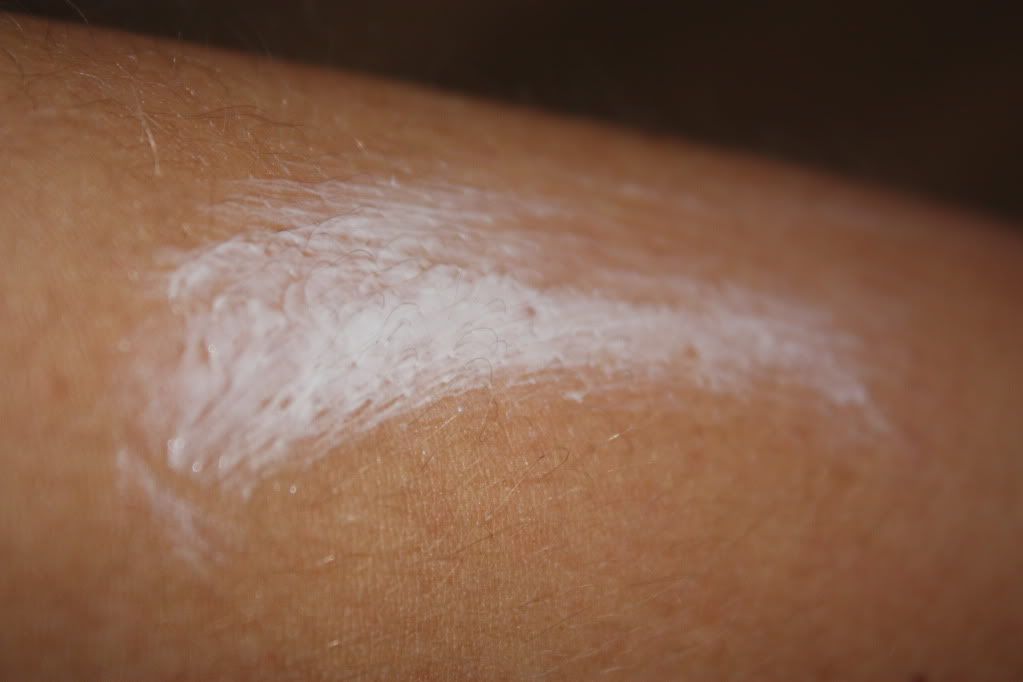 And this is what it looks like when you smear it out.
The body butter has a nice, creamy, buttery texture (see pictures above), actually just what you would expect from a body butter. You need to actually cream it in, but it 'dissappears' quite quickly. Just after applying it my skin feels a bit 'sticky'/fatty, but I think this is because the body butter needs time to be absorbed by the skin. Later in the day, my skin just feels soft! Also, the body butter leaves behind a subtle but wonderful smell of coconut!
I use this body butter for dry places, such as my knees and elbows, but sometimes I just cream it on my whole legs. If you want to cream in your whole body, it is better do it in the evening because the butter needs time to be absorbed by the skin so you don't want to pull tight clothes over it right away.
Conclusion
Advantages: makes your skin very soft, lovely smell, nice pot
Disadvantages: takes a while to be absorbed by your skin, it is quite expensive (especially for poor students like me)
Buy it or not? Buy it! I think this body butter is really worth its prize, and since the pot is quite big (200 ml) you can use it for quite a long time. Especially if you like coconuts, this will be a great body butter for you.
You can buy this Coconut Body Butter at The Body Shop shops or in their online shop. It costs
€ 15 for a pot containing 200 ml.
What do you think of the body butters from The Body Shop?