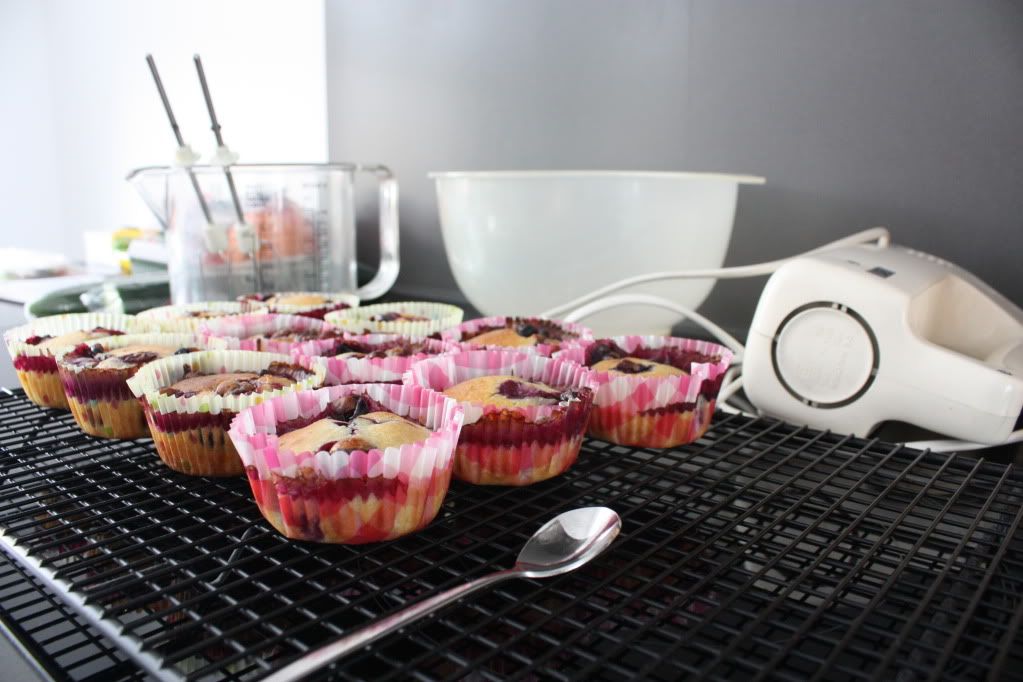 This afternoon I made some delicious (well actually I haven't tasted them yet, but I already made them before and they were delicious) blueberry muffins! And it's actually quite easy to make them, here is the recipe:
According to the book I used, this recipe will make 12 muffins. I got 18 out of it, so I think it really depends on the size of the holes in your muffintray.
Ingredients
115 g very fine granulated sugar
1 tablespoon grated lemonpeel
300 g flour
1 teaspoon baking powder
2 whisked (not sure whether this is the right word to use, but just whisk/mix them with a fork) eggs
2 1/2 dl milk
115 g butter, molten
1 teaspoon vanilla-essence
350 g blueberries (fresh or frozen)

Instructions
Pre-heat the oven to 200 degrees Celcius, gas setting 4. Put 12 paper liners in a muffinplate.

Use a spoon to mix the sugar, lemonpeel, flour and baking powder in a middle-sized bowl. Use a mixer to mix the eggs (remember to whisk them with a fork before doing this), milk, molten butter and vanilla essence in a different bowl for one minute. Add the dry ingredients to this mixture, add the blueberries and use a spoon to mix everything. It is allowed to be a bit lumpy. Put the mixture in the muffin shapes.

Bake the muffins for 20 minutes. Take the muffinplate out of the oven and leave it for 5 minutes. Take out the muffins and enjoy!

Source: 500 cupcakes by Fergal Connolly

If anyone wants the Dutch recipe, just ask, and I will copy or scan it for you! :]

Are you going to make these muffins?